Writing
---


MosesQuest of
the Four
PrincessesJungle JudgementNot
another
Nativity!Rumpel-stiltskinOne girl,
one dream!King Arthur
and the
ChallengeLot
4096

I've always been interested in writing. I wrote a book of 11 poems for my mother's birthday before I was eight, and in my teens I started writing songs. At university I went along to the local Folk Club and sang a number of my own songs. In 1964 I had a couple of short stories published in national Science Fiction magazines (and wrote many others which didn't get published). Later I wrote several songs which were performed at the Hastings Scout Show which my father was involved in, and I was in a Folk Duo who were asked to sing songs for a series of evenings run by King's Road United Reformed Church in Chandler's Ford where I was then living; I ended up writing eight or nine songs for that. In 1973 I performed two of my own songs at the Royal Albert Hall as part of the 6th National Scout and Guide Festival of Folk Music. You can hear one of them by clicking: Keeping Up with the Joneses. In 1977 I finished writing a musical "Moses" which was performed by Tulse Hill School in South London; two years later we took it to Germany and spent an exhausting week performing it at several schools.
Around that time I switched from being a Folk Singer to a Folk Dancer, and started writing dances (usually writing their tunes too) rather than songs. I've now written about 300 — see the page Colin Hume's Dances if you want to know more.
For no good reason, the fiction writing got forgotten until 2009 when I went on a "Writing for Performance" course in Letchworth, just round the corner from where I live. The tutor was good, and there were three excellent guest tutors who wrote for Television, Theatre and Radio. The writer for Theatre, Michelle Golder, told me about her group WRiTEON! in Cambridge which gives writers a chance to see their work performed and get feedback on the plays. They also have a Script Feedback Group which meets once a month: we read all or part of whatever plays have been brought along and give lots of useful feedback. I've now had several short plays staged by WRiTEON! and taken many along to the Script Feedback Group. I also started submitting radio plays to the BBC, whose policy is to read the first ten pages (which takes three months); if they aren't interested they send it back with no feedback. That's now happened four times, and I was getting somewhat disheartened. But WRiTEON! also publishes a newsletter giving details of play-writing competitions, and one of these was: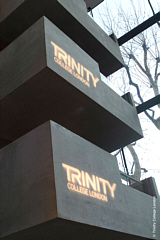 The International Playwriting Competition run by Trinity College, London. I was impressed by the helpful guidelines and found the play quite easy to write; I wanted to create lots of characters which children would enjoy playing, and to mix fairy tale and modern worlds in a fun way. The result was "Quest of the Four Princesses". Nearly 200 aspiring playwrights from 20 different countries entered the competition in 2011. Writers were asked to submit either a play to be performed by young children under the age of 12 or a play to be performed to young people between the ages of 12 and 16. I'm delighted to report that mine won the first category! It had two performances at the Unicorn Theatre in London on Saturday 14th January, and the kids (and director Alison Goldie) did a great job with not much time to rehearse. A book containing the successful plays from the competition was handed out to anyone who wanted it — if you contact Trinity College they will probably send you a copy, or you can Contact me and I'll email you my script. I was presented with a surprisingly heavy trophy and my prize of £1,000. Click here for some photos of the production
Naturally this spurred me on to further efforts. From the WRiTEON! newsletter I learnt of a young West End producer looking for musicals, so I got the vocal score of Moses out of the loft and sent it off to him, followed by a CD of some demo tracks, but he eventually said he was too busy with a web system for theatre tickets. I sent the script of what everyone thinks is my best radio play so far, "The Woodcarver's House" to The Script Readers who immediately put it on their list, and on December 1st 2011 I went along to hear an excellent reading of the play followed by a very useful in-depth discussion. I'm now rewriting parts of it in accordance with their suggestions. I also submitted plays to several more competitions, including plays in both categories of the Trinity competition for 2012 and two one-act musicals in the Under 12 category for 2013, but got nowhere.
In July 2012, Essex Audio Theatre produced a recording of my radio play "Open Garden Warfare". You can download it here.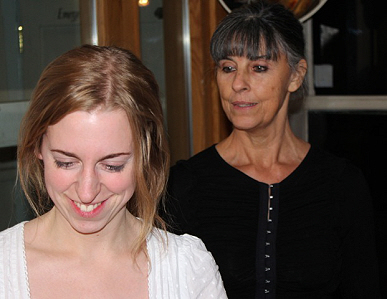 In September 2012 Julia Bolden of WRiTEON! ran a writing workshop at the Cambridge & County Folk Museum with the idea that we would be inspired by one of the rooms or something in it, and on October 31st and November 1st the ten attendees had ten short plays performed there, with five audiences moving from room to room. The writers were also the tour guides. The Museum was originally an inn, and my play "Leaving the Inn" was set in what is now the shop but would have been the entrance hall in 1800. It's about a woman who has been running the inn since her husband and son died, and her granddaughter who wants to get married and move to London. It was directed by Sarah Ingram and performed by Anne-Marie Hughes and Emma Miles, and was very well received.
You can download the script here.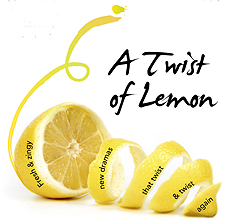 In 2013 WRiTEON! ran an evening of rehearsed readings called "A Twist of Lemon" at the Corpus Playroom in Cambridge. They were looking for plays with a twist, or several twists, and mine was the only one which actually involved a lemon, which is possibly why they chose "The Lemon Princess" to end the evening.
| | |
| --- | --- |
| King | Andrew Bailey |
| Queen | Rosemary Jolley |
| Prince | Ed Haines |
| Grand Master | Richard Peoples |
| Apple Princess | Zoe Walker-Fagg |
| Coconut Princess | Anni Domingo |
| Lemon Princess | Lauren Swiderski |
| Directed by | Sarah Phelps |
| Produced by | Julia Bolden |
In 2014 I wrote two one-act musicals for children, and the synopsis of a third, which I hoped would be produced by
Sutherland Primary School
in Stoke-on-Trent where the Head of Music is Dan Hollingshurst whom I know as the pianist in the Folk duo
Folkus Pocus
. Dan liked all three but his colleagues turned them down. However, they accepted my fourth offering, a rather different version of
Rumpelstiltskin
which was performed at Easter 2015. The two performances went very well despite the staff having an OFSTED inspection sprung on them the afternoon before!
Also in 2014 I wrote a full-length musical called One girl, one dream! for a group of children and adults based in Letchworth where I live. The show had four performances in July 2014.
In 2015 I was invited along with six other writers to create a scene for the devised piece "Seven Words for Love" to be performed by Twisted Willow Theatre — we had many meetings to thrash out the scripts and the relationships between the characters in the various scenes, but it all came together under the direction of Richard McNally and played to full houses on all five nights. Read a review here.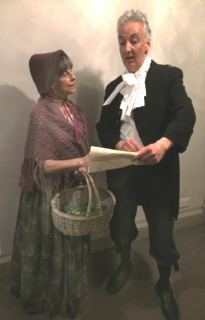 Later in 2015 I went to a workshop at Wimpole Hall where we were shown round the grounds, we had a talk about Capability Brown's work there, and then there was a session where we discussed ideas. 2016 was the tercentenary of Capability Brown's birth, so WriteOn had been asked by the National Trust to put together a series of short plays about Brown and the Wimpole Estate. Julia Bolden was leading the session and asked people what could have happened in the grounds, since they were looking for fiction rather than rather dry recreations of what actually happened. I thought this was a silly question and probably made myself unpopular with Julia by saying "Well, anything could have happened. An atomic explosion could have happened." And then someone made a suggestion which got me thinking — so obviously the brainstorming session really did work. We had two performances of "Capability and Beyond" at the Hall in June 2016 — 9 plays in all. Strangely enough my play, "A Very Pleasant Fiction", was the only one which had Capability Brown as a character.
Brown was played by Nick Wood and Lucy by Anne-Marie Hughes. The director was Suzanne Emerson and the producer was Julia Bolden.
You can download the script here.