Callers
---

Basic
NotesSpecialised TopicsTraining Sessions

If you want to be a caller, or you want to be a better caller, I hope you'll find something useful here.
The first button takes you to my basic set of Callers' Workshop notes — that's what I would use if I were just asked to run a Callers' Workshop without any further information.
The second button takes you to a set of more specialised topics, mostly those requested by callers who already knew the basics but wanted more in-depth knowledge of certain topics. There's a [Print] button at the start of each section of notes, so you can print out just the sections you're interested in.
The third button takes you to a set of eight Training Sessions where I go into more detail about how to teach people to dance better, with instructions or links to many dances which are useful when teaching the various steps and figures. Please have a look — I worked very hard to produce all this!
You might also want to read my essay on Why am I a Caller? and decide whether your reasons are good enough!
There are lots of books and on-line articles about being a caller. I highly recommend Jim Mayo's book Calling for Modern Square Dancing — some of it won't interest you unless you call MWSD but most of it applies to calling any kind of dance.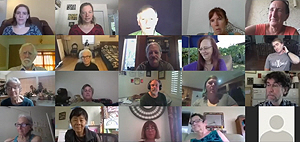 In July 2020 I led a Zoom Callers' Workshop for Scissortail in Oklahoma, in which I had been asked to talk mainly about websites — should callers have one, what should they put in it, and so on. There were also a lot of questions about my Dance Organiser program which I did my best to answer by demonstration. Click the image on the left to see the whole thing.
Close

Click here if there's no picture.
---

---
On Tuesday, October 2, 2007, David Brown from Kent wrote:
1 Working with Recorded Music:
a) I understand that variable speed minidisk players are now available, though I haven't yet used or seen one. A possible problem with variable-speed CD players (and probably MD players) is that the pitch of the music is changed as well, and this can irritate some musicians among the dancers.
b) I use MAGIX's 'Audio Cleaning Lab' software to alter the music's tempo without changing the pitch (vice versa also possible), and then re-record the result to MD or CD. I also use it to cut-and-paste bits of the music into a recording to convert a track which goes through 8 times into one that goes through 9 times or more (or, with cut-and-delete, 7 times or less). PC World sometimes sells off older versions of ACL at give-away prices; there's probably plenty of other software (?freeware) which does the same job.
2 Working with Bands: as a musician, I was taught to keep track of the number of times through the music by playing (mentally) to the 4 corners of the room in turn (and starting again as necessary). It works for calling too, but I still bend my fingers as a backup!
---
On Friday, December 6, 2019, Andrew from Stevenage wrote:
I have read your callers workshop guide which is extremely helpful and as a new caller I've been taking everything on board. I now have my first booking at a different club to my own one. I've been advised that I should have public liability insurance as a caller. Is this something you have and if so, who do you use?
By the way - great website.
Thanks
Andrew
---
On Friday, December 6, 2019, Colin Hume from Letchworth, England wrote:
Andrew -
I'm an EFDSS member and therefore I'm covered by their Public Liability Insurance. Late in 2019 their insurance company changed the rules and said that if you were paid anything other than expenses you were a "professional" and therefore were not covered. This was ridiculous and I phoned the EFDSS Chief Executive to complain about it. I'm happy to report that EFDSS have now changed insurers and the cover is back the way it was.