Elizabeth and Other Dances
---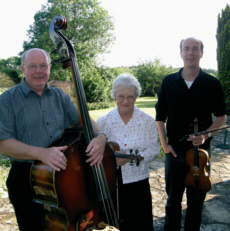 Performed by Masquerade.
Adèle's Delight
Winter Memories
Kim's Game
Elizabeth
Double Trouble
Moonfleet
The Merifest Central Square
Dartington
Tea Up!
Renata
The Graduate
New York Times
No Clapping!
Centre of Friends
Garden City Square
Masquerade
This CD was launched at
Whitby Folk Week
, 19th-24th August 2007, when Masquerade and I were working together for several events, and is now out of print.
We've used a little double-tracking, but basically this is the band as they sound live: three classical musicians showing that they can also play good danceable folk music. We haven't gone in for much in the way of fancy arrangements because this is primarily music to dance to, with a clear melody line and steady rhythm, though we think you will enjoy listening to it as well.
The band have selected tunes from Dances with a Difference Volume 4 and Volume 5 plus a bonus track written by me for the band (before I had ever heard them) with instructions and musical notation available on this website.