What I Do
---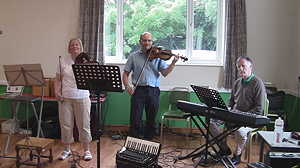 In the Folk world I started as a singer/guitarist, but these days I'm a dancer, caller, teacher, musician, choreographer and tune composer. (I'm separating caller and teacher because many people call dances but very few teach people how to dance, and I try to do both.) I've played guitar with Kafoozalum and Blue Mountain Band; piano with Ad Hoc, Knotted Chord and various unnamed bands; tambourine (for just one dance) with Bare Necessities. I lead The Round Band in Cambridge about five times a term, sometimes lead the band for Cambridge Contra, and play in the band for Histon Folk Dance Club, also in Cambridgeshire. On rare occasions I call and play piano simultaneously. Click on the image to see a video of me playing in Knotted Chord in 2019.
As a caller/teacher I've done Club Nights, Saturday Evening Dances, Evening Classes, Contra Dances, Playford Balls, Zesty Playford evenings, EFDSS National Gatherings, Dances and Workshops for Folk Festivals, Dance Camps in the States, Weekends in Germany, Denmark, Switzerland, Canada, Halsway Manor and Belstead House, and the Christmas Course Week in Holland. I've led weeks for Folk Camps and several times led their Dancers' Weekend.
It's not all high-level stuff. I started mainly calling Barn Dances or Ceilidhs, though I do hardly any of that now. For many years I helped run the "Beginners" session every Thursday evening at Cecil Sharp House in London. I called for twelve years at the Stafford Music Day, where my job was to persuade musicians to dance while other musicians are playing. And I enjoy calling Children's dances.
If you want more specific information, either contact me or read on…
Dance Workshops
Dance Technique
Playford-style dances
My interpretations
Zesty Playford
Dances with a Step
Country Dance Minuet
English meets Scottish
American Squares and/or Contras
Contras and Squares without a Walkthrough
End-effects
Modern Western Square Dance
Dances from various collections…
Playford
Fallibroome
Maggot Pie
Apted Book
Ashover Book
"For the Further Improvement of Dancing"
Thomas Bray's Country Dances
etc.
Dances by a specific choreographer…
Pat Shaw
Fried de Metz Herman
Philippe Callens
Gary Roodman
Colin Hume
etc.
200 Years of American
Connections
Callers' Workshops
Other Workshops
Dance Interpretation (Reconstruction)
Composing Dances
Composing Dance Music
---
Colin Hume
Colin Hume started his folk career as a singer/guitarist, and has performed his own songs on national radio and at the Royal Albert Hall. He then discovered Folk Dancing. Over the last forty years he has built up a reputation as a caller of American Squares, Playford-type dances (English Country Dances in 17th century style), and his own "Dances with a Difference", many of which contain unusual combinations of figures to baffle and/or delight the dancers. His tunes are also different enough to make most bands stop and think. He has published five volumes of "Dances with a Difference", three with corresponding recordings, two volumes of the American-style "Squares with a Difference" and one "New Dances for Old" of Playford-style dances to existing recorded tunes. His book "Playford with a Difference" contains his own interpretations of a number of country dances published in the 17th and 18th century by John Playford and others, and is unique in giving the original wording plus discussion of the various possible meanings of the descriptions and a justification of how he comes up with his own reconstruction. His versions are now danced on both sides of the Atlantic, and he leads workshops on the subject. He believes that dancing is to be enjoyed and that dancers will enjoy it more if they are taught some dance technique, and he was one of the founders of
GUSTO
(Grand Union Structured Training Organisation) which was set up to run training courses for
EFDSS
(English Folk Dance and Song Society).
Colin calls at many Folk Festivals and Folk Dance Clubs, and for nine years helped run the "Beginners" sessions at Cecil Sharp House in London every Thursday. He has called at Folk Dance courses in Holland, Germany, Switzerland, Denmark and Canada, and for Dance Weeks in the U.S.A. at Pinewoods in Massachussetts, Mendocino in California, Brasstown in North Carolina and Buffalo Gap in West Virginia, plus a week of Dancing down the Nile in Egypt. For many years he contributed a regular column to the EFDSS magazine "English Dance & Song", containing his thoughts on many aspects of the Folk Dance world plus dances by himself or others.
Colin is too outspoken to be everyone's favourite caller, but will appeal to dancers who appreciate an entertaining and varied session including some fairly complicated dances without the reverential attitude to Playford, Tradition or EFDSS that some people adopt.
Click here for a zip file containing a larger picture of Colin for your publicity.
Close

Click here if there's no picture.
---