Links
---

I've never felt the need for a Links page on my site, but in the current situation one has gradually evolved!

Solo dancing
In the States there has been much discussion about adapting dances for one or two dancers since coronavirus stopped all the regular dances.
You can find lots of information at
carolinaenglishcountrydance.com/dance-pandemic-list-links
And here's an invitation to join one very popular group, presented by Sharon Green: mailchi.mp/d5abe6c69675/zoomecd
On 15th June 2020, Margaret Swait wrote:
Several new dances have just been posted to our list of dances for solo, couples, and small groups at carolinaenglishcountrydance.com

We now have 56 dances on the Dance Pandemic List Links page.

If you want to add your dances to the list, please send them to You must enable JavaScript to see this email address. . Also, please use this email address to let me know if your posted dances need editing.

The pages listing these dances have been viewed 2,625 times, as of today, bringing the joy of dance to many parts of the world.

Thus far in 2020, the website has had visits from: USA, UK, Canada, Australia, Netherlands, China, Germany, France, New Zealand, Switzerland, Belgium, Austria, South Korea, Panama, Bangladesh, US Virgin Islands, Norway, Poland, Finland, Indonesia, Egypt, Japan, India, Singapore, Ukraine. These are listed in order of frequency.

Congratulations to all those whose dances, music, and teaching have brought more joy to the world in the midst of challenging times!
If you're looking for contras rather than Playford-style, try www.ibiblio.org/contradance/thecallersbox/FAQ.htm#others-corona
John Sweeney (from England) has a more energetic dance at: contrafusion.co.uk/Dances/SidesOfMutton.html complete with a link to a YouTube video.
Or if you want a genuine couple dance, Jane Curry and Andrew Findlay of London Barn Dance Company will teach you the Salty Dog Rag:
www.youtube.com/watch?v=vJgNWE0oXkA
Or Jake and Anna teaching La Chapelloise:
www.youtube.com/watch?v=A8AO1zcHD1o though I don't believe it's French! See my other website for more information.
Or here are Mark and Faye Elvins demonstrating Swedish Masquerade:
www.youtube.com/watch?v=Mnwr8YYiQXQ
Or if you're into Morris dancing: www.youtube.com/watch?v=WvYx4Lv7r7E
The Friends of Cecil Sharp House (now The Friends of English Dance) have a monthly virtual Playford dance workshop: fcsh.org.uk
Madeleine Smith runs two small local dance clubs on Zoom, and is willing to share her thoughts on how this works from both a social and a dance point of view. It does not require high tech to use recorded music. She is also willing to share her repertoire, including interactive dances, which work well with small numbers. She would welcome the occasional visitor. Contact her at You must enable JavaScript to see this email address.

Talks
There are also things to watch if you don't feel like dancing on your own.
Here are links to the Historical Tea and Dance Society's Web Chats. These are interesting discussions with various callers and musicians — mainly American, though you will also find me from England, Nicolas Broadbridge from Scotland, Heather Clarke from Australia and Cécile Laye from France. Their Tuesday evening chats would start at 4am over here so I'm pleased they do one a month at a more reasonable time!
And here are links to the Historical Dance Society's Lockdown Lectures and Historical Dance Tutorials. Don't confuse the two organisations! The Historical Tea and Dance Society was previously called the Victorian Tea and Dance Society and is based in Pasadena, California, USA. The Historical Dance Society was previously called the Dolmetsch Historical Dance Society and is based in England.

Music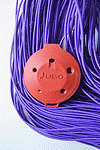 Are you one of those people who wish they'd taken up a musical instrument years ago? Do you worry that you're getting too old for dancing but you'd still like to be involved with your local club? Are you looking for something to do when the second wave of coronavirus hits and you'll be in lockdown again?
Maybe you don't want to learn the violin or accordion — you're just looking for a small cheap instrument which you could master without years of lessons. I may have the answer!
Wayne Hankin is a multi-instrumentalist whom I've called with several times in the New York area. He also spent some time performing with Cirque du Soleil — so he knows what he's talking about. Under the pseudonym of Dr Jubo he has developed what he says is the easiest instrument to play. The Jubo sounds like an ocarina but has only four finger holes so it's easier to learn. Its range is one octave in the key of C, and he says that unlike most ocarinas, Jubos play in tune in up to 9 keys. If you don't have any printed music to play from, my site contains about 1,200 tunes and you can transpose them to whatever key you like and listen to them while you play along.
Read about it in The Jubo Journal or see his website www.jubomusic.net where you can listen to people playing it — it sounds good to me. Click "About" and then "Listen".
There's also a clip on Facebook of Wayne with Jonathan Jensen, who's an expert ocarina player in addition to other instruments.

Health
If you're like me you've done little or no dancing during lockdown, and you may be wondering whether you'll be up for it when restrictions are finally lifted. For most of 2021 I've been doing Joe Wicks' exercises twice a week and I'm sure this is helping me. I started with the absolute beginners session:
www.youtube.com/watch?v=7HqGCwt4F1I
and after a few weeks graduated to the 30 Minute No Equipment Home HIIT Workout:
www.youtube.com/watch?v=tXOZS3AKKOw
. The first couple of times I only managed to get half-way through the HIT Workout but since then I've always managed to do the whole 30 minutes.
I think Joe Wicks is the real thing. I saw a video on thefast800.com which had flashy graphics and a very calm person demonstrating the moves with a very calm voiceover, but I'll stick with Joe who was doing it live and sometimes struggled a little himself.
I've been on the 5:2 diet for some years, but Michael Moseley's updated version The Fast 800 is even better and I now weigh less than I did 50 years ago. I know this diet doesn't work for everyone, but to me the great thing is that you're only dieting two days a week — on the other five you can eat whatever you like (within reason). In fact having reached my desired weight I'm now only dieting one day a week, but I know that if necessary I can go back to two diet days and get my weight back down again. The book only costs a few pounds and is really interesting, so why not give it a try?

Quiz
Finally, callers might like to try my
Callers' Quiz
. It should run on anything with a reasonable browser, including PCs, Macs, iPhones, Android, UNIX. By all means
Contact me
if you really don't agree with my answers or the points I'm making — it's just my opinion!