Cecil Sharp House
---

This 12 inch single record contains two dances by Colin Hume: "Cecil Sharp House" and "Save the House!" with instructions and musical notation, plus the Wind Quintet version of "Unrequited Love".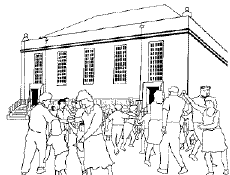 Cecil Sharp House was opened in 1930 as a centre for English Folk Dance, Music and Song, and is the headquarters of the English Folk Dance and Song Society. The National Executive Committee of that Society decided in November 1986 that the House would have to be sold to pay the Society's debts. The Friends of Cecil Sharp House were formed by Brenda Godrich to help the Society by raising money to keep the House open, but it soon became apparent that some committee members were determined to close the building regardless of the facts of the situation. After a long unpleasant fight we managed to get the building reopened and reverse the decision to sell. All these years later, I still don't know why they wanted to sell the House, but things have certainly swung the other way. In 1995 Brenda Godrich received the EFDSS Gold Badge (the Society's highest award). She was then chair of the National Council (successor to the NEC), and EFDSS was earning more income from Cecil Sharp House than from membership subscriptions in addition to getting free accommodation for the Society's offices.
Save the House! was an immediate response to the decision to close the building — I wanted to write a dance which I could sell to raise money for the Friends, and the title contributes the underlying rhythm to most of the tune. The dance is lively (hornpipe rhythm) and not particularly difficult, though as often happens in my dances the little "differences" have been known to confuse people.
Cecil Sharp House was a later work — a complex dance in the style of those published by John Playford in the 17th century. Many Playford dances are named after famous houses of the period: "Hunsdon House", "Cottey House", "Buckingham House" (better known as "Chelsea Reach"), "Apley House" and so on. I decided to write a dance dedicated to my favourite House. It was first danced at a Playford Ball in Cecil Sharp House in November 1987, as a result of which the interval was delayed twenty minutes — it turned out harder than I expected!
Unrequited Love is probably my best-known dance so far (in England — it would be "Elizabeth" in the States), and had been recorded by Wild Thyme on their "Hunter's Moon" LP and later by Dampier's Round on their "Spring Blossom" CD. I wrote the wind quintet version for a concert held at Cecil Sharp House in 1988, and I am glad of the chance to bring it to a wider audience. You can't dance to it, unless you are prepared to improvise during the introduction and the two episodes which separate the appearances of the tune.