New Dances for Old, Volume 1
---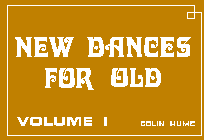 | | |
| --- | --- |
| Pitch-and-Toss | Jack-in-the-Box |
| Covent Garden | Winter's on the Way |
| Chase Me! | Parnham House |
| Mayfair | The Old World and the New |
| Non-Stop | Moorgate |
| Beck and Call | Marble Arch |
| Anne's First Festival | Hush-a-Bye Baby |
| Bright and Beautiful | The Isle of Wight |
| Welcome Home | Titania |
| Oxford Circus | Ringing the Changes |
| Hampton Court | Little Venice |
| Have a Rest! | Mysterious Ways |
| Belstead House | Jumping Cracker |
| Alternating Currents | Sting in the Tail |
Twenty-eight new Playford-style dances written to fit the tunes on the "English Dancing Master" Volume 1 and 2 records by The Orange and Blue (now available as a double CD with Volumes 3 and 4, EFDSS CD 09).

Background information
Mayfair
is a dance that nearly didn't get written. Originally I had written one called "Patience" which I can now see was too gimmicky, but before publishing the book I went along to the Vaughan Williams Memorial Library at Cecil Sharp House to check their dance index and found that there was already a dance by Peggy Hazell with this title. I needed another dance fast. The tune for
Grimstock
is played three times through, but I didn't want to write a three-couple dance as this would really confuse people who knew Grimstock, so I opted for a dance with the three Playford introductions. As I had no two-couple dances in the book, this seemed a good formation. But I didn't want to follow each introduction with "set and turn single" — that would be too much like Grimstock — and yet I needed something to fill up those four bars. So I decided on "pass through and cast away" for the first two figures — and then the casting movement after the arming seemed very logical, given the way you are facing if you keep your arms joined at the end of the movement. In fact I hope the whole dance is very logical, though that doesn't stop people getting confused in the third introduction.
I shall never forget calling the dance at Pinewoods on my first visit to the States in 1992. It was Wednesday evening, I was tired, I didn't know the dance well enough (the book had only just been published) and I couldn't read my card fast enough — I dried up and the dance collapsed. Unfortunately the dancers had been having trouble with the previous dance and I'd made a joking remark, "I thought this was the cream of American Dancers". So after the collapse there came a voice from the crowd, "We thought this was the cream of English callers". I tried the dance again — and dried up at a different point! Another voice from the crowd said, "We're going to keep on until you get it right". And when I called the dance successfully at the third attempt I've never heard such a reaction — cheers, whistles, stamping of feet… But I don't recommend this method of getting applause from the dancers.