Dance Clubs
---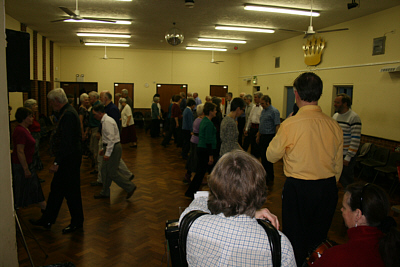 I'm calling with Spring Greens at the
Hitchin Staplers FDC who meet once
a week, a few miles from my house.
There are Folk Dance Clubs all over England, varying widely in numbers, style and ability. Often they meet weekly or fortnightly at a village hall or church hall. There is always a caller who walks the dances through first and then prompts the movements just before the dancers need to do them. Some clubs have the same leader every time; most have a rota — probably some club members and some better-known callers from further afield. Most Folk Dance Clubs use recorded music. Most are keen to have new members and will welcome inexperienced newcomers; a few are elitist.
In addition to their regular meetings, most clubs run two or three Saturday dances a year. These are bigger events, with dancers coming from a wider area, and they usually have a live band and a reasonably well-known caller. Then there are the Folk Festivals, most of which have dancing of some kind.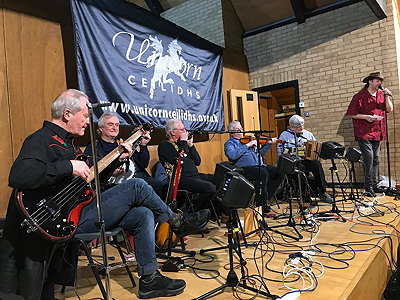 Unicorn ceilidh in Baldock, also a few miles from
my house, who meet once a month
A generally younger and more energetic scene is the ceilidhs.
"Ceilidh"
is a word which has been borrowed from Gaelic and reinterpreted; it generally means an evening of simple vigorous dances with a louder band than you would find at a club dance, often melodeon-led, often including a drummer and sometimes including brass instruments.
The English Folk Dance and Song Society used to have the country split up into Areas and Districts, and you would contact the District Secretary to find your nearest Club. EFDSS scrapped this useful network some years ago, but many of the old Districts still exist under a different name. You can try phoning Cecil Sharp House on 020 7485 2206 and asking for a phone number for your local Folk Organisation, but you might do better at www.setandturnsingle.org.uk.